Chocolate Stout Cupcakes with Whiskey Ganache Filling and Cream Cheese frosting
Chocolate Stout cupcakes with Whiskey Ganache filling and cream cheese frosting are so yummy, and they are great on an Irish St Patricks day! The Green Peppermint Macarons with chocolate ganache filling are my personal favorite flavor!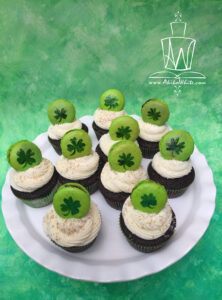 I just wanted to share the recipe for the Chocolate Stout Cupcakes that I made for St. Patricks day. They were so scrumptious and delicious. I was so pleased at the rise that I got out of the recipe and the chocolate ganache centers made them so full of chocolate deliciousness!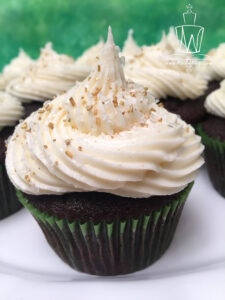 The macarons were so fun to paint! I really enjoy painting on macarons. I will post more painted macarons in the future. Click here to get the recipe for green peppermint macarons.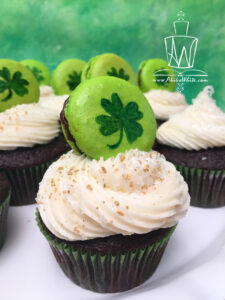 I am a chocolaholic, so anything with chocolate makes me drool! This Chocolate ganache recipe can be used for any recipe calling for ganache. you can omit the whiskey if you choose too, you can add other flavors instead if you like. Just have a clean dry bowl to work with. Ganache doesn't like water.
To Fill the Cupcakes: Using a 1-inch round cookie cutter (or the bottom of a large decorating tip), cut the centers out of the cooled cupcakes, going about two-thirds of the way down. Transfer the ganache to a piping back with a wide tip and fill the holes in each cupcake to the top.
Using your favorite decorating tip, or an offset spatula, frost the cupcakes with cream cheese frosting and decorate with sprinkles, if desired. Top with the chocolate mint macaron. Store the cupcakes in an airtight container.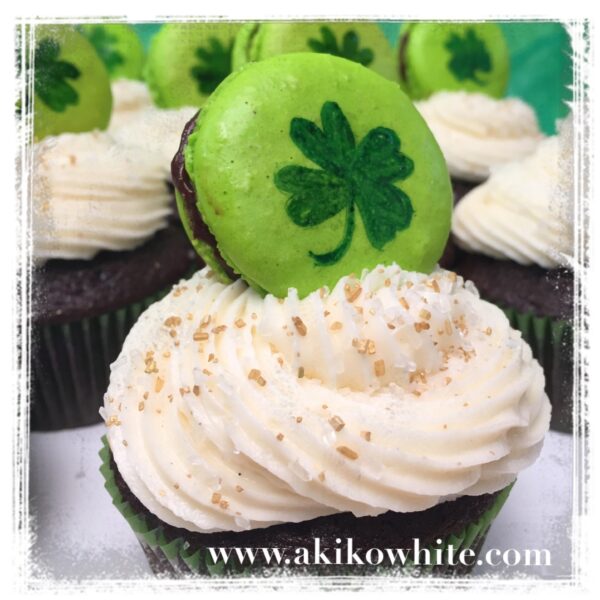 | | |
| --- | --- |
| | |
Preheat oven to 350 degrees F.

Line 24 cupcake cups with liners. Bring the Stout beer and butter to a simmer in a heavy, medium saucepan over medium heat. Add the cocoa powder and whisk until the mixture is smooth. Then cool slightly.

Whisk in the flour, sugar, baking soda and salt in a large bowl to combine. Using an electric mixer, beat the eggs and sour cream on medium speed until combined. Add the Guinness-chocolate mixture to the egg mixture and beat just to combine. Reduce the speed to low, add the flour mixture and beat briefly. Using a rubber spatula, fold the batter together until completely combined. Divide the batter among the cupcake liners using an ice-cream scoop. I find that I can get a more equal amount by using this method. Bake until a toothpick inserted into the center comes out clean, about 17 minutes. Cool the cupcakes on a rack.

Top with chocolate ganache and cream cheese frosting! Enjoy!!!