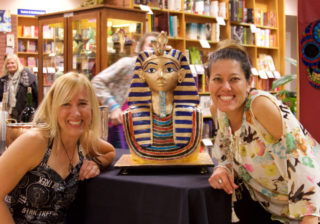 King Tut Cake!
I was invited to create an epic cake for my friend P.J. (Tricia) Hoover's book launch for her second book in her Tut series. The book launch party was at Book People in Austin on March 4, 2017. It is a great series about Tut's internal life as a middle schooler. There are battles to be fought with Egyptian creatures and lots of experiences that teens can relate too. It's a must read! #readtut
We made it into Publisher's weekly!!
Below is the YouTube video of my process in making the cake and also a video of the party. Enjoy!
How I created the King Tut Cake
This was a challenging cake to create because I wanted to use the gold paint. Gold paint is actually nontoxic, but not recommended for consumption. (The Silver dragree balls that you see on cakes or cupcakes are painted with the same product. I recommend using only on parts of a cake that will not be eaten.)
I also wanted to make the head shelf stable for days to come so that Tricia could keep it in her bookshelf. They call cakes that are shelf stable for years Dummy Cakes. These are usually made with styrafoam dummies that are either shaped in the style of cake or carved to the design specifications.
Also when I create these cakes I want to make it easy for serving purposes. There are usually around 50+ people at a book launch. I want to make it easy to serve those hungry children…of all sizes! So instead of just stacking all the cakes on top of each, I usually put multiple cardboard bases between the layers. This also helps with the structure of the cake. I usually have to drive over 50 miles to deliver these types of cakes. I need them to be structurally sound for the ride.