My Food Network Experience
In 2016 I had the opportunity to be on Food Network's Cake Wars. It was quite an experience.
To begin with, you have to submit an audition reel. I can't help but laugh, If you tell them your "Insane" and have a couple farm animals in your reel, you can be on TV. At least that's how I got on! I do have a few nice cake though and I think my outgoing unpredictable personality was just what they were looking for!
The hardest part of being cast for a major TV show is that you have to keep it all a secret until it is aired, which could be several months! I had been approached by the Spring Baking show and the Holiday baking show, but there was a conflict in timing and was unable to participate, besides I thought Cake Wars was more fitting to what I have been doing lately.
I invited Bryson Perkins of Triolos Bakery to join me on the show. I think we made a great team. We had never actually met in person when I asked him to be my cake partner, but I admired his work and his desire to create such amazing cakes. Bryson has won multiple cake shows and has been in the World Championships for Cakes. I was honored that he excepted my invitation to be on Cake Wars.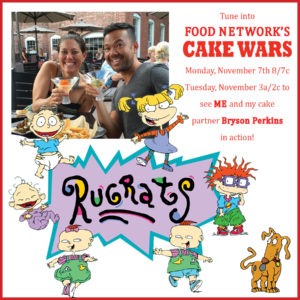 Our theme was Rugrats. It was such a fun theme because my kids loved watching it when they were kids, so I had seen so many of the episodes too! We had to come up with an idea for the 25 anniversary of the show. We did the characters all riding in the Reptar mobil. It was huge!!! It must have weighed over 200lbs!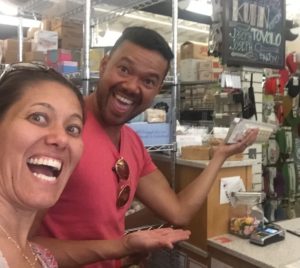 We were flown out to LA and shared a hotel with the other competitors. We had no idea who we would be up against nor did we know who was going to be on the show. in the morning they drove us out to a warehouse where they film the show. Everything went by so fast, it was pretty much a blur to me. But what an exciting experience!
I sewed and painted our aprons for the show. I think we looked pretty good!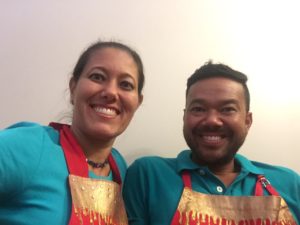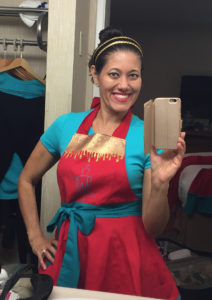 After the filming we had Chinese food with our new friends Rose Han and Nataliya Volkodav.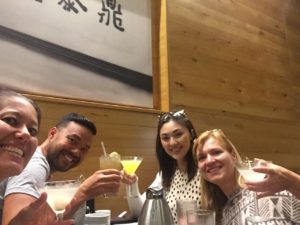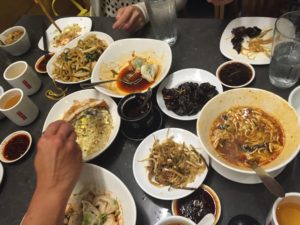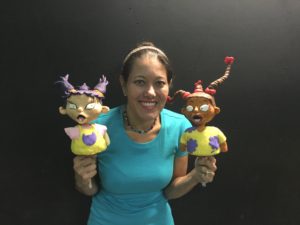 Rugrats Kimi and Suzie!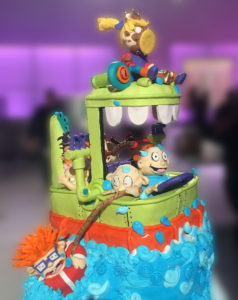 "The Best Designed Cake in Cake Wars History!"
If your curious and want to watch the show, you can purchase it here. It is the Rugrats edition